I've left physic as a subject many years ago, but my love of the related knowledge remains. I remember one formula that I never fail to answer in every exam which is to calculate Velocity (v) or Speed. You can do it by dividing Distance Travel (m) with Time of Travel (t). The formula will look like this, v = m / t. I get excited every time velocity related questions came up in the exam.
Recently another physic related news featured in The Economist magazine. It was about Higgs Boson. Have you heard of The Higgs Boson? I remember the first time I saw some years ago that CERN (European Organization of Nuclear Research) published an article in the same magazine about their ambitious project to solve one of the universe mysteries called Higgs Boson. I couldn't understand at that time what is it about because it involves some Einstein's general relativity model  and The Standard  Model physic theory that I have no clue about. But I still read in bits whenever the news is covered.
You know what is Higgs Boson? To physicist believes The Higgs Boson is equivalent to DNA to life for the universe. They said, "The discovery of Higgs makes sense of what would otherwise be incomprehensible." Without the Higgs, there is no explanation of where the mass of the particle comes from. That's how big it is to them, and perhaps to many of us as human creature.
The Higgs actually is the basic level of mass. In other words, without Higgs there will be no mass. No mass means no stars, no earth, no planets and no atoms. And if no atoms then a human being like us also unexplainable. This Higgs is also called "the God particle". Even though it doesn't explain the creation (God) itself, but to the physicist it is the most fundamental discovery. They have been long expecting this through a prediction by a British physicist, Peter Higgs in 1964 (yes it has been five decades of search!). Finding the Higgs is not easy, so you may want to know how they did it right.
At CERN there is this 27km circumference machine, dubbed the world's largest and powerful particle accelerator; Large Hadron Collider (LHC) that sends bunches of protons around that 27km circumference in opposite direction, at close to the speed of light (299 792 458 m / s) – that's how fast it is! So that they collide on (sound like atomic bomb? Yes indeed). The theory is the faster the protons are moving, the more energy they have. When they collide the energy is converted to other particles (Einstein's E-mc2) which later decay into yet more particles. Because it is so small and Higgs is very elusive, finding it was thus a question of looking at lots of different energy levels and ruling each out in turn until the physicist found they were looking for. Apparently it involves thousands of collisions and they need to rule out one by one.  
For people like us and non-physicist, I hope this discovery will not lead to another 'better' atomic bomb project that will kill the meaning of science and scientific research. Besides, this kind of research project is very expensive and takes very long time. I don't how much mouth can be fed with $10 billion (cost of this project). Money is tight and crisis still looming without firm direction. Nonetheless, I think we should celebrate this little win of advancing human being to become better creature on earth. Let's hope this discovery will make many of us realize that this earth has so much to learn if only we pay attention to it. I personally humbled by the discovery and hope to see the world more through His eyes.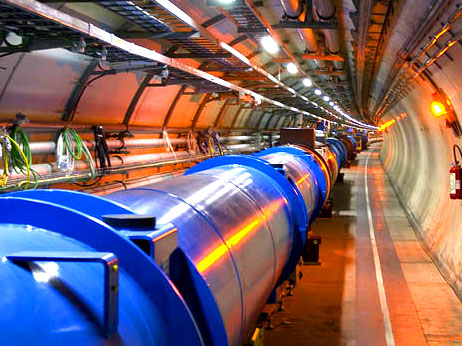 Brickbbats please send to [email protected]